Adaptable Architectural Design using Sustainable Materials for Futureproofing
Architecture is an active sector easily adopting information, communication, and technology into their field areas. The purpose of architectural design is to improve the human life and currently, the movement is pointing towards mindfulness, well-being, and comfort in the spaces. The intent is to create timeless, free, joyous, and comfortable spaces for all stages and activities in a human life. With new technology in the field, architecture welcomes elements and design trends focussing on materials, constructions, and new structures.
With an environmental movement happening, the building materials should promote recycled materials and closed-loop systems, while acquiring sustainable certifications like WELL, LEED, BREEAM — to name a few. Furthermore, this eco-conscious architecture trend promotes a close relation to nature with the use of natural elements and materials, thus cultivating timeless architecture.
Timeless Design in A Modern Context
Modern industrial style is a captivating combination of the raw interior elements with natural light and high ceilings. The angles, shapes, and lines are inspired by traditional techniques; however, when applying in an innovation context, modern industrial style sees no limit to creativity. It harmonises functionality and minimalism of the space, while maximising the glamour and timeless beauty of different forms and shapes. The notion of high-quality raw materials is the foundation in the artistic work, while irregular, rough and smooth surfaces complementing the interior design.
The futuristic architectural designs connect the past with the future, ensuring that it stays valuable through time. Additionally, it's a big investment in time, money, and effort when designing a new building. Hence, this new place should be able to complement both the present context and the future applications. In other words, architectural designs should be appreciated and cherished for years to come. The purpose of the building can be changed but the built materials should be able to withstand the test of time.
Key Takeaways When Designing Timeless Architecture
An architectural design should involve all five-canvas meaning that a ceiling design is also important for creating a sense of timelessness. A plain white ceiling can make a space feel clean and calm, while a textured or patterned ceiling can add warmth and character. Finally, it's important to use natural materials wherever possible to create a sense of organicism and timelessness. Stone, wood, and metal are all great choices for this purpose. The materiality and functionality of the space need to be balanced out aesthetically and harmoniously.
In addition, lighting is also a key in creating a sense of timelessness. Warm light fixtures will help to create a cosy atmosphere, while cool LED lighting can give off a more modern feel.
Acoustics is another important factor to consider when designing a space. Poor acoustics can make a room feel uncomfortable and noisy, while good acoustics can make it more pleasant to be in.
Stone wool is an excellent acoustic material that helps to absorb sound and create a peaceful environment. It's also fire-resistant, meaning it can be used in public spaces without the risk of fire spreading. Moreover, stone wool ceiling panels can help add some more textures and visual interest to a space, while also improving the acoustics.
Capture the Spirit of Your Timeless Design with Rockfon Mono Acoustic
When designing interior spaces, it can be a real challenge to ensure that the space is not only visually appealing but represents a comfortable environment for people to spend time in.
'The Rockfon Mono Acoustic ceiling serves as an eye-catcher in the transparent foyer as it's a seamless, flat and fine-grained sleek system where all kinds of installations can be concealed. In addition, these systems fully meet the acoustic requirements that this stately and public building must meet,' said Luuk Dietz, Architect and Project Manager at KAAN Architecten, project: New Amsterdam Courthouse.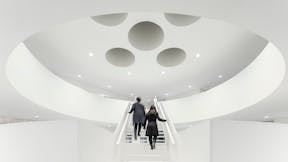 Amsterdam Court House
New Amsterdam Court House have an outstanding acoustic comfort with the monolithic and seamless design from Rockfon Mono Acoustic.