Different people, the same feeling
Cinemas serve different people but creating the same feeling of an outstanding experience that makes people feel great. Setting the stage for success meaning thinking about the vibe, the design, easy navigation, comfort and acoustics. The right mixture of these elements is the way to become a blockbuster success.
The interior design adds value to the cinema experience, and it supports your business as it creates a better customer experience. We share some interesting insights and upcoming trends that will influence the design of cinemas.
Staying flexible
It's important for cinemas to be flexible and modular as there might be a need to change spaces for different events that need special performing or visual art. The cinema doesn't only serve as a silver screen for a movie experience but can also host different events where it's necessary to stay vital and fresh.
Where do we fit in?
Our acoustic ceilings are designed with a holistic approach and with a high emphasis on modularity that allows you to create multifunctional spaces. The flexibility in formats edged and colours give you the freedom to quickly change the scenery to suit any activity.
Getting in the mood
People go to cinemas for more than just watching a movie. They go for the experience and the exclusivity of seeing it on a big silver screen. In the digital age, where media and mobile devices stream endless content, cinemas must embrace their opportunity to welcome guests in an outstanding setting to make their evening magical. The design of movie theatres should wow people and really plunge them into the experience of going to a cinema.
Playing with colours and patterns are a great way to impress customers and create a setting that matches their expectations for the movie they can't wait to see.
Where do we fit in?
We offer acoustic solutions in a colourful palette and in a variety of shapes, dimensions and applications to inspire and enhance your interior design schemes. It can be a helping hand to set the mood in the cinema design while controlling the noise levels.
You need to set the scene and a colour is a powerful tool that can create an atmosphere stimulating feelings and behaviours. Rockfon Color-all® is the go-to choice as it offers a palette of 34 exclusive colours, everything from subtle to bold long-lasting colours. You have the design freedom to choose between concealed, semi-concealed and visible grid solutions for your interior. And our Rockfon Blanka® has a bright, matt white surface offering the best acoustic level to ensure indoor comfort. The super white and smooth surface comes in edges and dimensions to complement every space.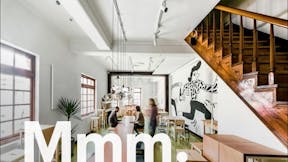 Sounds like a great place to have fun
Noise is a significant problem in leisure facilities. Our acoustic products create beautiful soundscapes in hotels, restaurants, sports facilities, cinemas and museums, so your patrons can relax, stay longer and spend more.