This webinar provides architects, interior designers and specifiers information and tools to confidently define acoustic performance metrics for their project interiors that comply with requirements in building standards, guidelines and certification systems. Strategies for selecting proper wall, floor and ceiling constructions that will meet the defined performance metrics will be covered. This webinar will be particularly useful for design and specification professionals that do not always have an acoustics consultant on the design team.
Learning Objectives:
1. Gain a better appreciation of the importance of interior acoustics from both a health and wellbeing perspective as well as from a quantitative post-occupancy survey data perspective.
2. Understand the overarching acoustic trends and commonalities in the standards such as LEED, the WELL Building Standard and Green Globes.
3. Use the simple, 3-step, Optimized Acoustics design process to define and select ceilings, walls and background sound levels for your project.
4. Appreciate how the acoustic design process must vary based upon the function of the building – education, workplace and healthcare.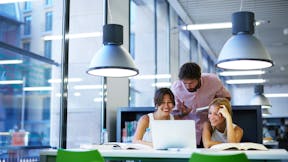 Webinars on Accoustics
We offer a variety of webinar videos to provide you with further knowledge on acoustical design and the importance of good acoustics in different building types.